Webs of Knowledge in Action IRL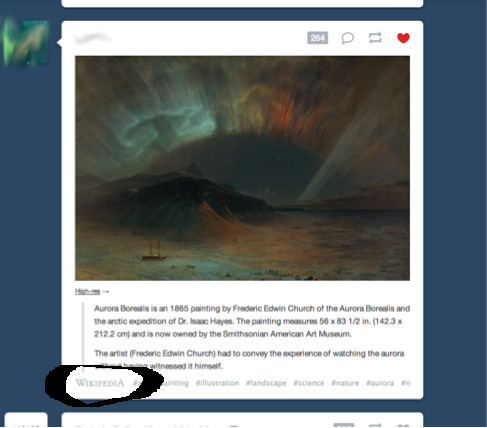 Last week, I was privy to an amazing experience – I saw webs of knowledge unfold across digital space and found my researching realms overlapping. Webs of knowledge in action – in real life (IRL)!
Backstory: In February, I participated in a Smithsonian American Art Museum-hosted Wikipedia edit-a-thon focusing on Civil War landscape art. At the beginning of the event, we had a dynamic tour of the Civil War and American Art exhibit by curator Eleanor J. Harvey and learned about the integration of moments of conflict in landscape art in 19th century America. We closed the tour with a discussion of an 1865 painting by Frederic Edwin Church called "Aurora Borealis." The piece is stunning in person and I took on the challenge of creating a new Wikipedia article about Aurora Borealis (painting). I returned to the article several times and continue to flesh it out – incidentally, I welcome anyone else to contribute to the article with content, editing, or relating the piece to other works.
Last week, while scrolling on Tumblr, I noticed the following post by a blog I follow: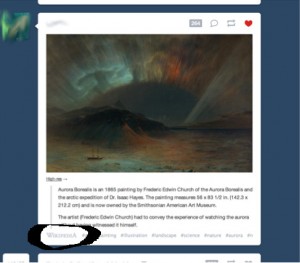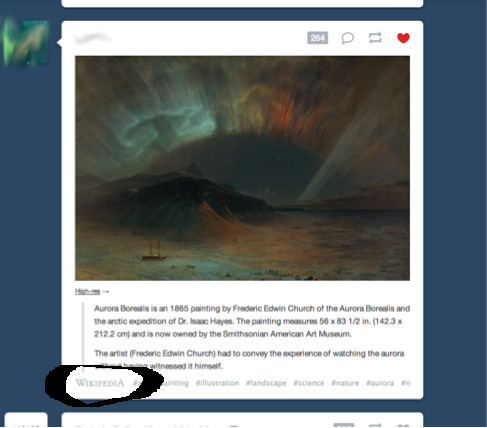 Upon seeing this post in my feed, I mused, "I really love that image – that is such a great painting" –
Then, however, I noticed that the post cited Wikipedia as the source (see circled component in the image above).
THEN, I realized… "golly, that's MY article – I created that article and here it is being promoted, shared, liked, and reblogged by Tumblr users"
This is a fascinating example of cultural heritage content held at a museum being linked (literally) in a central and open access knowledge repository, then accessed and shared in a social networking space: overlapping forms of digital communication.
This was a social share of Smithsonian content; by way of an outreach and engagement event that sought to share Smithsonian collections by explaining their context and content through (or on) Wikipedia. Then that content was taken up by a user on a social media network and shared with his followers. Then his followers responded to that content by liking and reblogging and replying to the content. This Smithsonian-housed content was, therefore, literally linked to broader scientific debates via @ikenbot's page and the Tumblr/social media sharing loop.
Also, as a leader in the science Tumblr section, @ikenbot's decision to reference the Wikipedia article adds authority or credit to the validity of Wikipedia within that particular community of practice on Tumblr (science-focused bloggers).
The original post: http://ikenbot.tumblr.com/post/48160589544/aurora-borealis-is-an-1865-painting-by-frederic
Is this a case of "If you build it, they will share…"? Perhaps not, yet this instance is a powerfully persuasive example, even as a one-off. It demonstrates the realities of sourcing and sharing content in digital spaces; furthermore, it is a testament to the ways Smithsonian Institution and Wikipedia content meshes and unfolds across digital space through social and cultural behaviors in digital spaces. Plus, it was quite cool to have my own words cited and sourced as a part of the summarization of the image.
Finally, if you have time and are in the DC area, please do visit the Civil War and American Art exhibit; and hurry! The exhibit closes April 28, 2013 and moves to MoMA in NYC in May through September. More information is available through the link, including podcasts and exhibit guides.