All that Glitters is GLAM: Gold MUSE Awards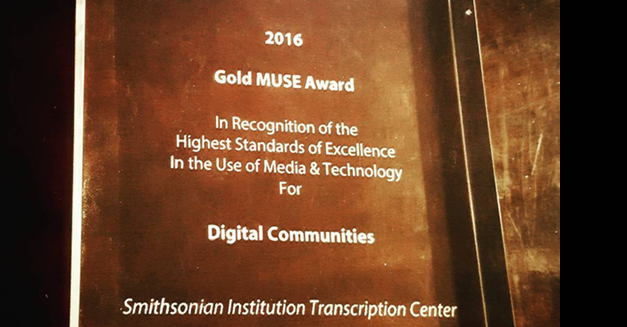 The Smithsonian Transcription Center won a Gold MUSE Award for Digital Communities from the Alliance of Media & Technology in May at the Alliance of American Museum conference in Washington, D.C. I'm delighted that the efforts of our team of volunteers, staff members who share so much time and knowledge, and the Office of the Chief Information Officer were acknowledged formally by this award. We do it together and we continue to grow.
Here is what the juries had to say about the Transcription Center:
"The Smithsonian Institution Transcription Center is a volunteer-supported transcription website at a large scale. The website is smooth and easy to use, participation is rewarding, and the whole experience reflects well on the Smithsonian brand. The jury especially appreciates the way volunteers are made to feel special." (via Dacia Macengill's post for the Center for the Future of Museums)
As annual awards from The international Alliance Media & Technology Professional Network, The MUSE Awards "are presented to institutions or independent producers who use digital media to enhance the GLAM experience and engage audiences. The MUSE awards celebrate scholarship, community, innovation, creativity, education and inclusiveness."
Learn more about the 2016 winners: fabulous, well-designed, and inspiring projects from peer organizations across the museum and cultural heritage sector. Watch for more details of the Transcription Center's appraisal in the December issue of Museum.