"Volunpeers" is a flexible term for volunteers, organizations, and institutions to succinctly represent the knowledge-building activities and collaborative enterprise in which they are engaged. When used as a hashtag, #volunpeers can be leveraged to quickly connect individuals to asynchronous collaborative activity. It is a term that may be used to draw novice volunteers into public discussion about crowdsourcing and citizen science activities, as well. It also may be used as a way to announce discoveries and call out for help. "Volunpeers" specifically challenges heirarchical, as well as the exclusivity of, knowledge production and the efforts to created that knowledge; as part of a wider set of activities, it is a term and an identity that may be affiliated with the promise of digital technologies, the internet, and the democratization of knowledge. It is also an identity adopted by participating volunteers to describe themselves and their positioning with this crowdsourcing project of the Smithsonian Transcription Center. This post describes the ways I first implemented the term in coordination with the activities of Smithsonian's Digital Volunteers and the Smithsonian Transcription Center in April 2014 and its continued use today.
I was several months into my role as project coordinator for the Smithsonian Transcription Center in April 2014, plus a day or two into our second TC 7 Day Review Challenge. I'd issued a goal of reviewing–and ideally completing–as many pages as possible in 7 Days. It was an open, but still formidable task.
Digital volunteers at this point tended to communicate directly with the Transcription Center (i.e. me) via feedback e-mails and tweets. The TC did not and still does not have a discussion board. One drawback of this design decision: some kind of work-around might be necessary when volunteers wanted to bounce ideas or ask others to join them on challenging projects. However, it is also a design decision that creates alternative opportunities for communication between participants – specifically in the social media spaces in which they may already operate.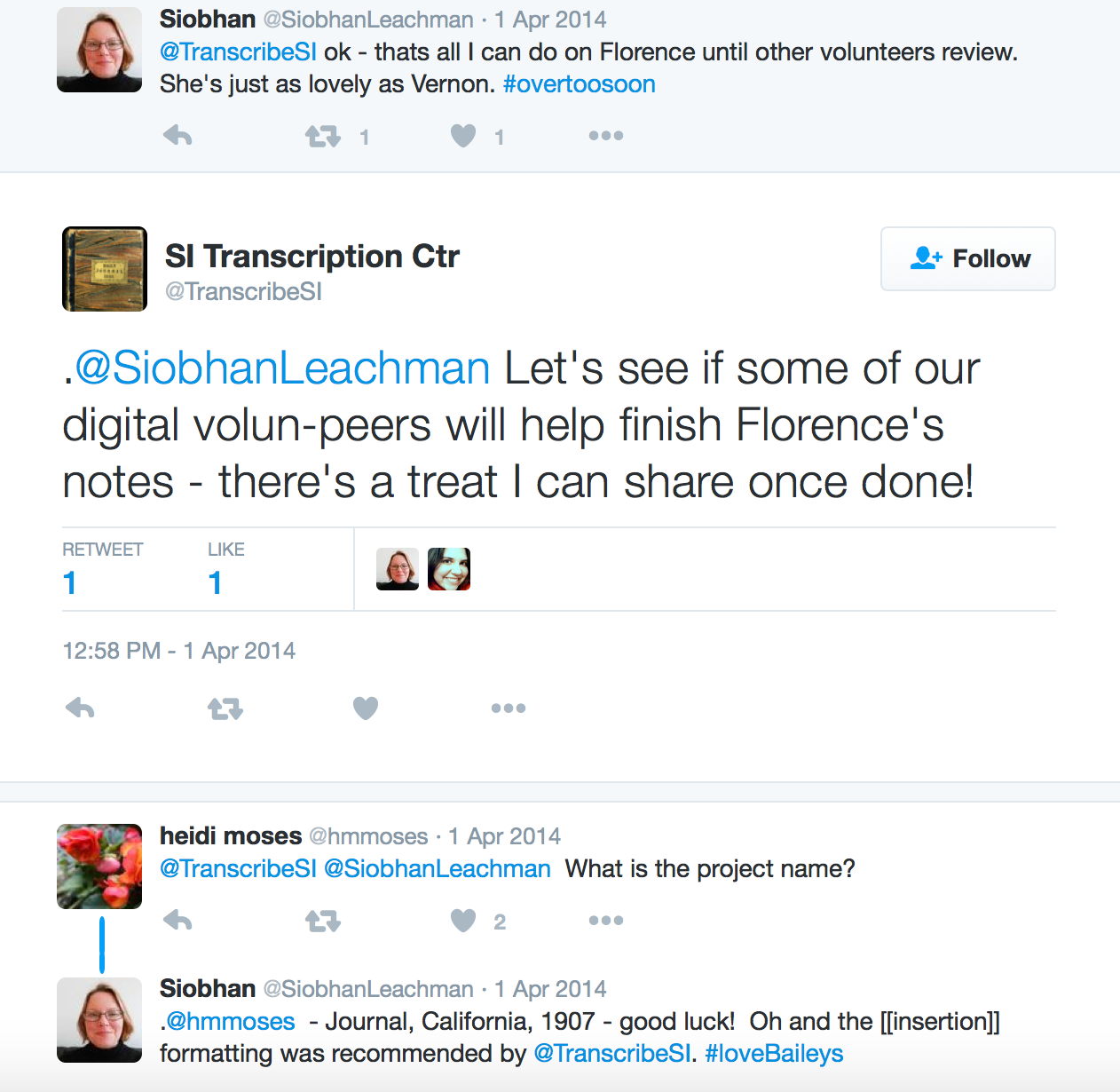 While responding to a volunteer's tweets on 01 April 2014 using the @TranscribeSI Twitter handle, I suggested another "volun-peer" might be able to help. In the first 2 days of using these 9 characters, I swiftly incorporated the term "volun-peer", then "volunpeer", then the hashtag #volunpeers into the rhetorical approach and central mindset of the TC in three key ways.
In the first use of the hyphenated term, I'm suggesting a portmanteau to blend of meaning of volunteer and peer. This implicitly rejects a hierarchy of volunteers and highlights the peer review and collaboration of the TC.
In the second use, I'm still applying a hyphen but signalling members of the group to an unknown wider set of members while setting out a call-to-action.

In the third use, I continue to use the hyphenated term and this time attempt to catalyze a call to action focused around content: a dapper Leo Baekeland and his diaries.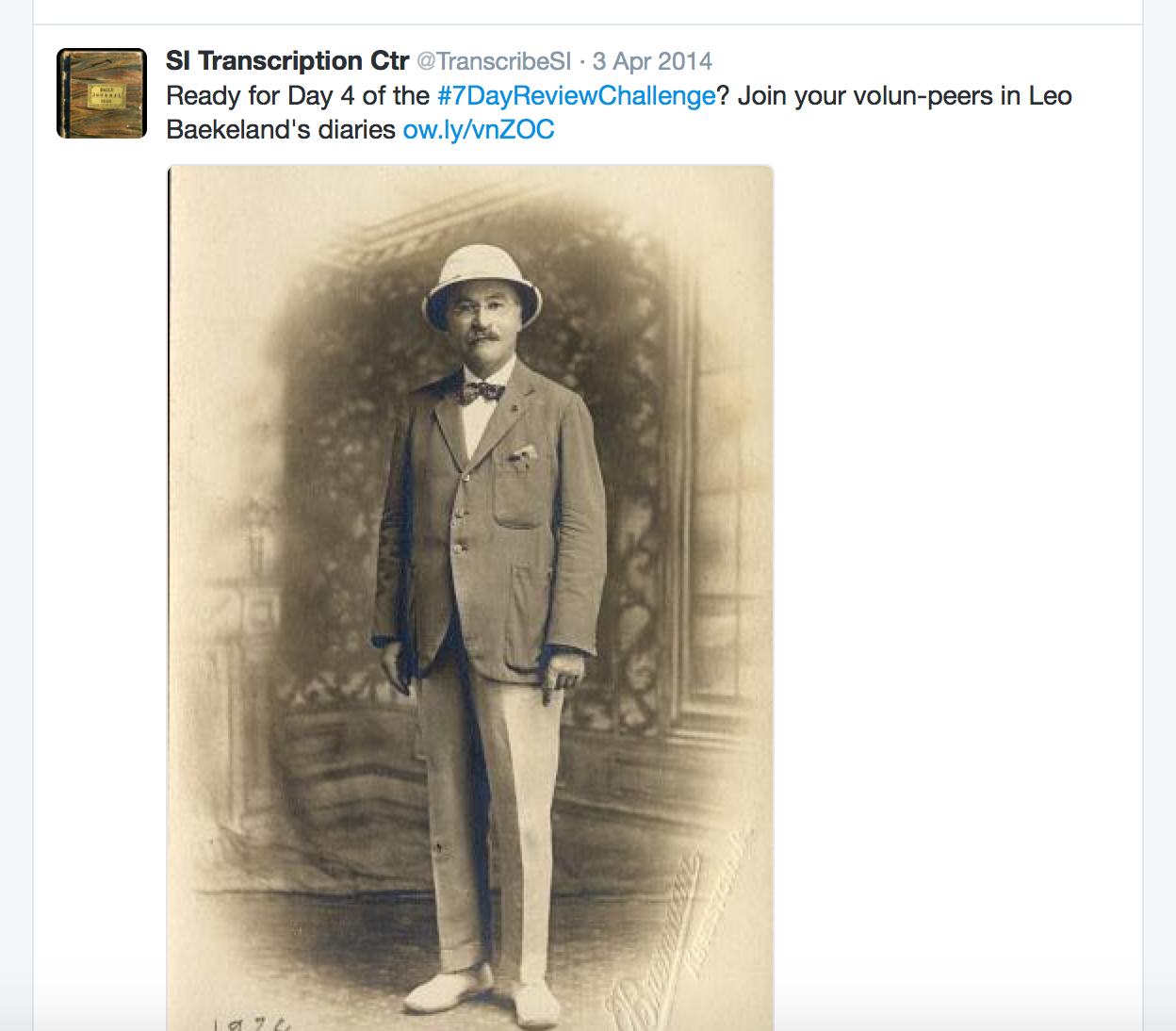 I actually start using a hashtag and non-hyphenated term in the fourth use of volunpeers on 03 April 2014. This first time the hashtag term is singular: #volunpeer. I used it in this way to share the collective contributions of all volunteers engaging with the 7 Day Review Challenge.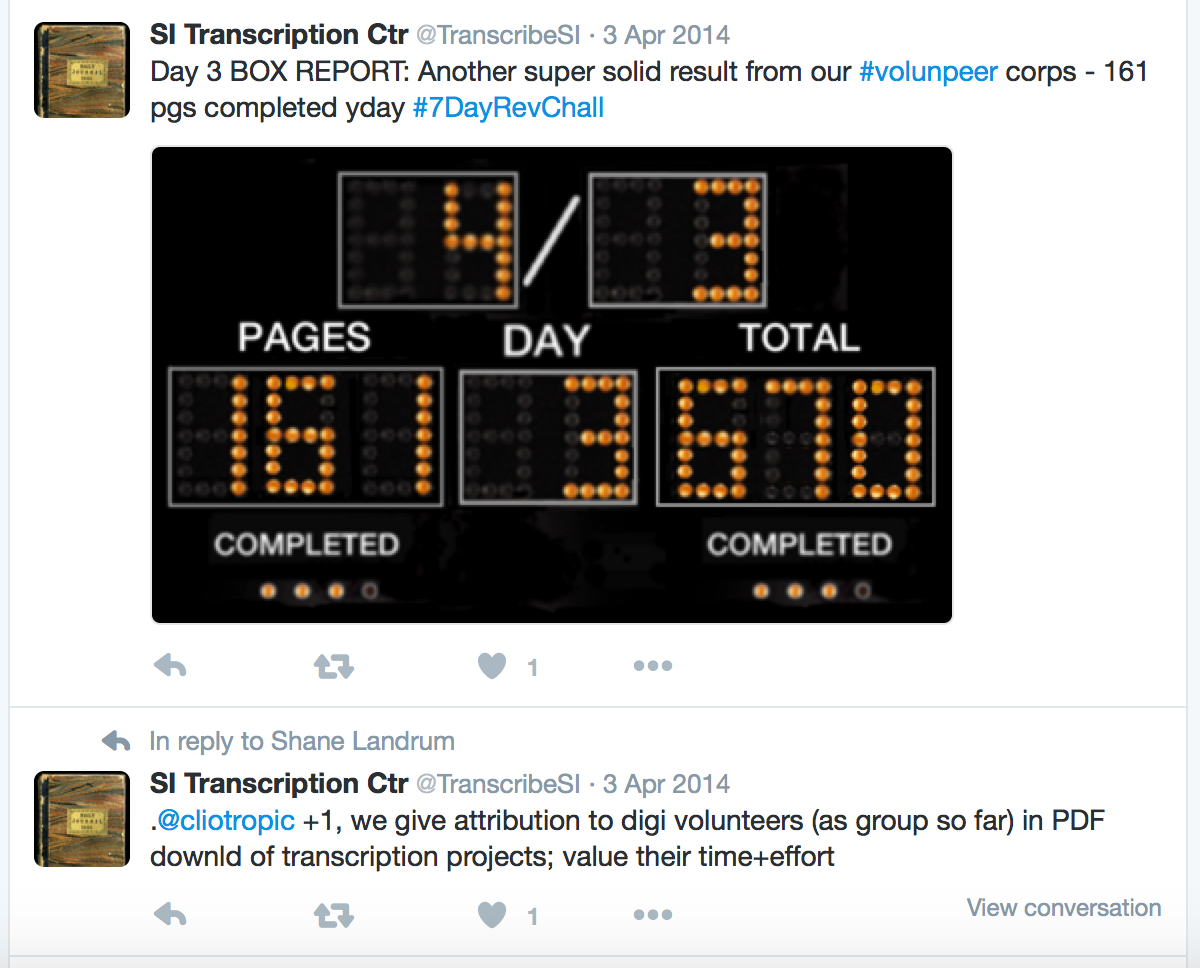 Finally, in the 5th use of the term the next day, I use the plural hashtag. In this case, I'm asking questions and trying to generate genuine discussion using this hashtag.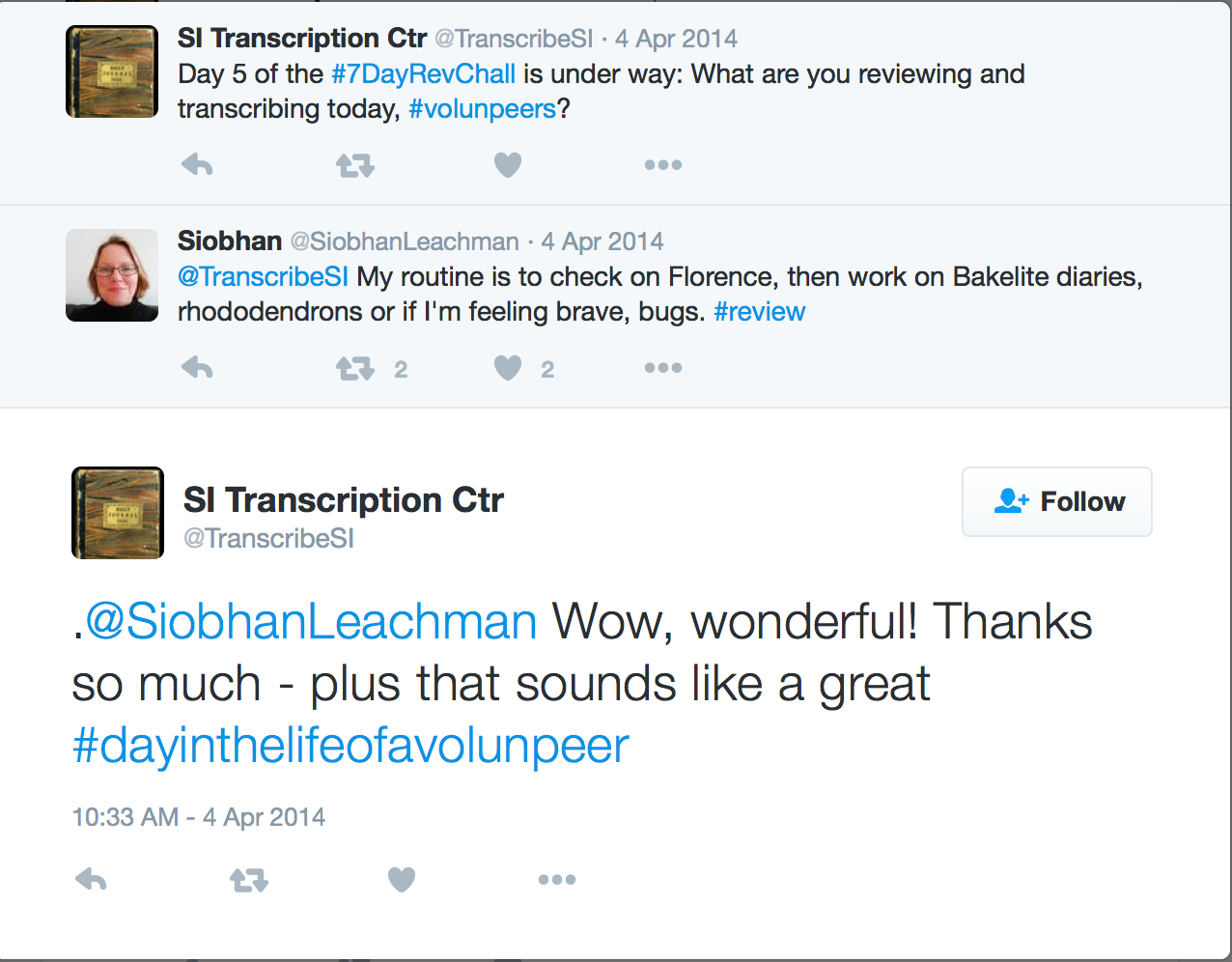 By the 6th, 7th, and 8th uses, the hashtag is allowing me to attach to it messages of encouragement, questions, and report outs. This Grand Total summary below is my 7th use of the term "volunpeers".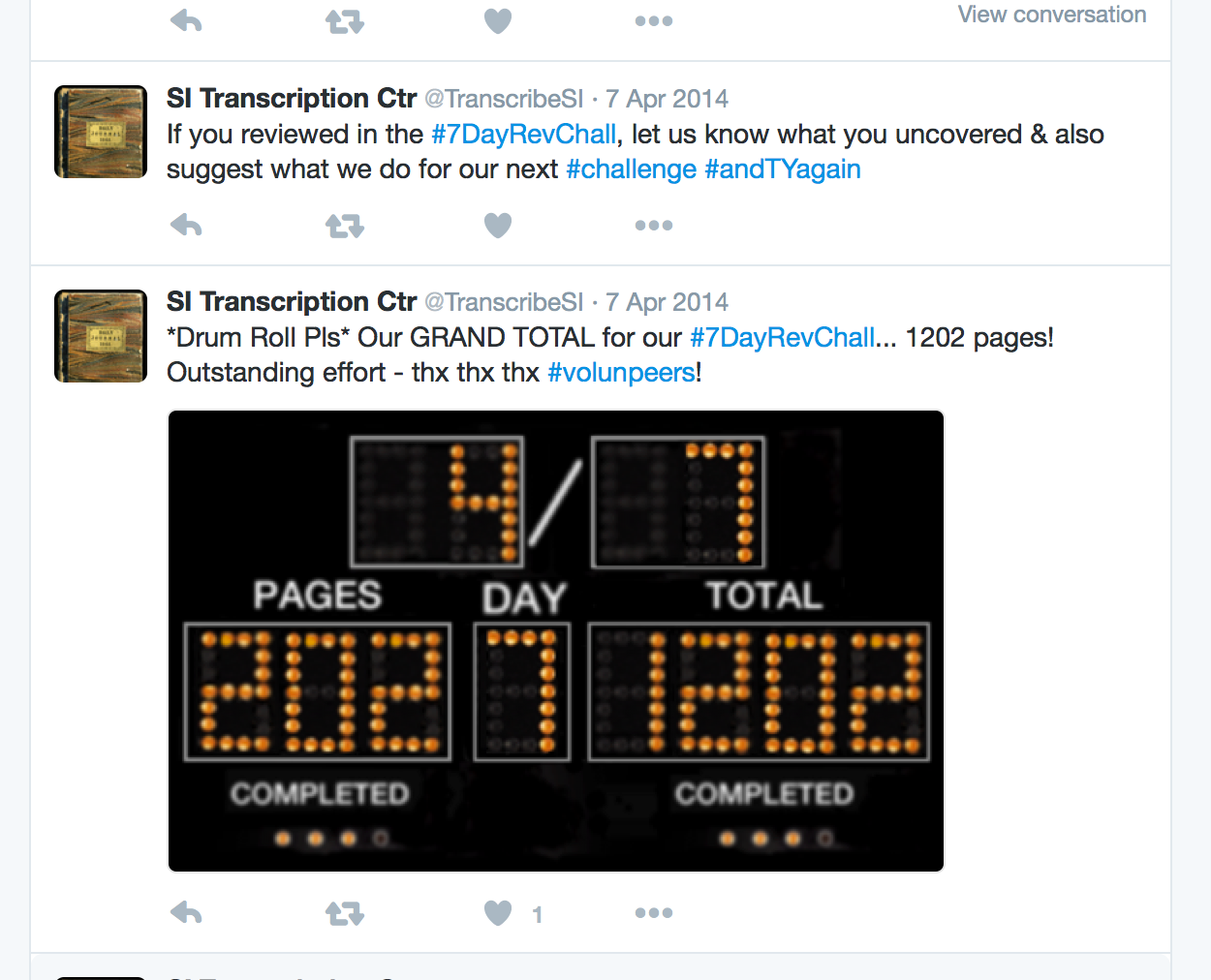 I'm also able by 07 April 2014 to leverage the structural capacity it affords and its discoverability as a hashtag (c.f. Mechant & De Marez, 2012).
In a forthcoming article in a volume of COLLECTIONS: A Journal for Museums and Archives professionals, I describe the ways a hashtag can be a useful string of characters, plus so much more. Specifically, as a hashtag, #volunpeers is employed as a vehicle for conveying information through a social network to the eyes of other willing and interested volunteers.
To summarize myself: the term #volunpeers moves beyond an ascribed label to an adopted identity for those who feel affinity toward its meanings. It also actively incorporates collaborative construction of knowledge. Using #volunpeers chips at barriers and hierarchies of authority between an institution and public through on-going interaction. Staff are learning and improving their workflows through interaction with the public, as well. Rather than telling and directing, #volunpeers can be deployed by the public as well as staff as a means of sharing and inviting productive discussion and inclusion with their work. I use the term to signify the boundaries and the ways they might be blurring, as with  collaborative space that uses peer review; and to honor what is possible together rather than what is being done by individuals.
I should note that while @TranscribeSI was the first to use the hashtag #volunpeers, it was used several times in 2013 by a PeerCoin community; and specifically to signal knowledge exchange!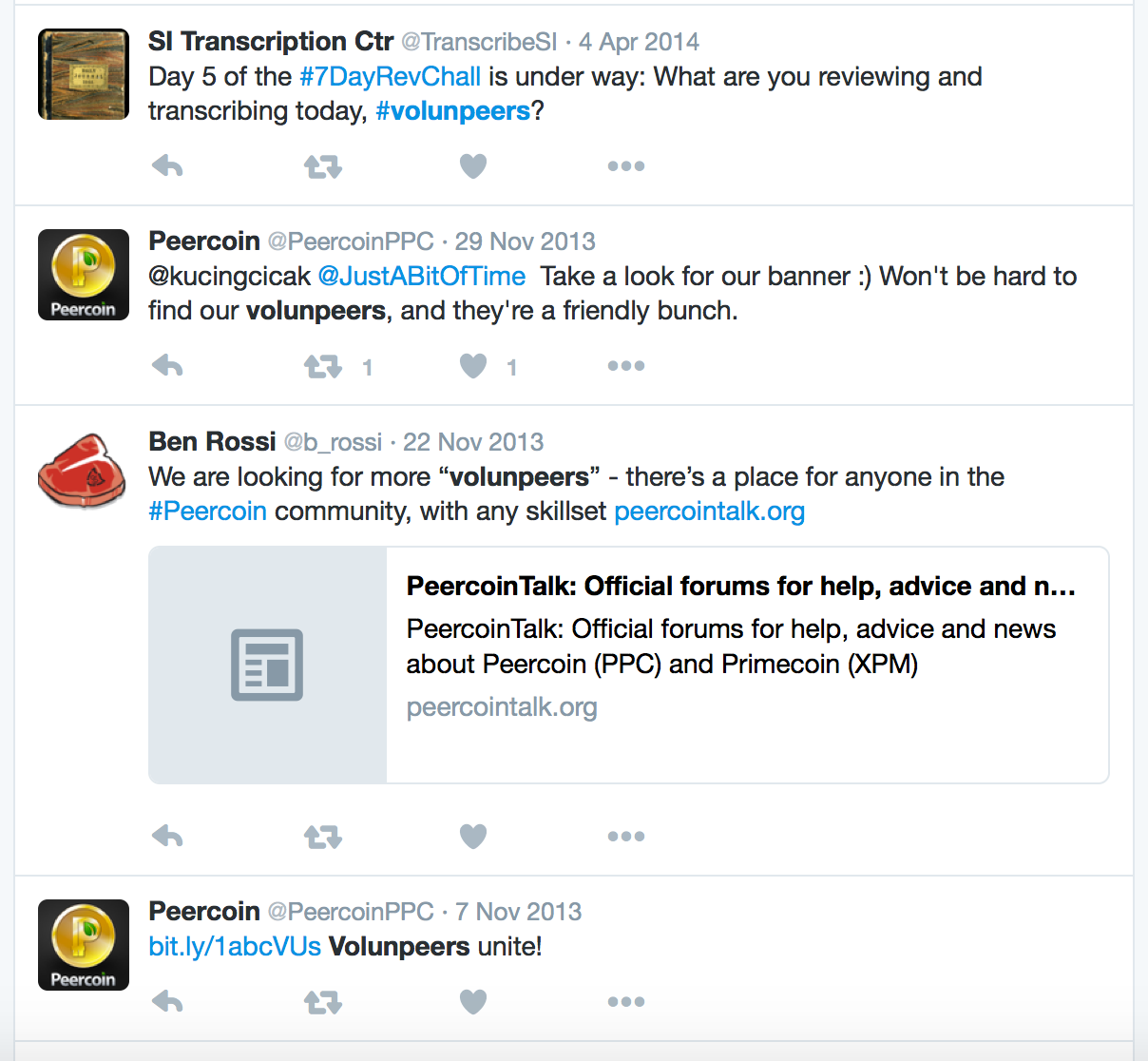 So, what do you make of "volunpeers"? What does it mean to you? Do you think #volunpeers is appropriate, ambitious, or too conservative for crowdsourcing and citizen sceince? Do you consider yourself a volunpeer and if so, why?
Mechant, Peter, and Lieven De Marez. 2012. "Studying Web 2.0 Interactivity: A Research Framework and Two Case Studies." International Journal of Interactive Communication Systems and Technologies (IJICST) 2, no. 2: 1-18.
How can you help the Smithsonian make history? Just by volunteering and sharing what you know!
The Smithsonian Institution is rooted in the crowdsourcing tradition and there are more than 30 projects actively seeking your input right now (try these!). Also visit the Smithsonian Transcription Center and learn more about the activities and possibilities at the Smithsonian.
Listen in as Effie Kapsalis and I explain the ways the Smithsonian Institution invites information in and shares knowledge back out with the world.