The Smithsonian Transcription Center won a Gold MUSE Award for Digital Communities from the Alliance of Media & Technology in May at the Alliance of American Museum conference in Washington, D.C. I'm delighted that the efforts of our team of volunteers, staff members who share so much time and knowledge, and the Office of the Chief Information Officer were acknowledged formally by this award. We do it together and we continue to grow.
Here is what the juries had to say about the Transcription Center:
"The Smithsonian Institution Transcription Center is a volunteer-supported transcription website at a large scale. The website is smooth and easy to use, participation is rewarding, and the whole experience reflects well on the Smithsonian brand. The jury especially appreciates the way volunteers are made to feel special." (via Dacia Macengill's post for the Center for the Future of Museums)
As annual awards from The international Alliance Media & Technology Professional Network, The MUSE Awards "are presented to institutions or independent producers who use digital media to enhance the GLAM experience and engage audiences. The MUSE awards celebrate scholarship, community, innovation, creativity, education and inclusiveness."
Learn more about the 2016 winners: fabulous, well-designed, and inspiring projects from peer organizations across the museum and cultural heritage sector. Watch for more details of the Transcription Center's appraisal in the December issue of Museum.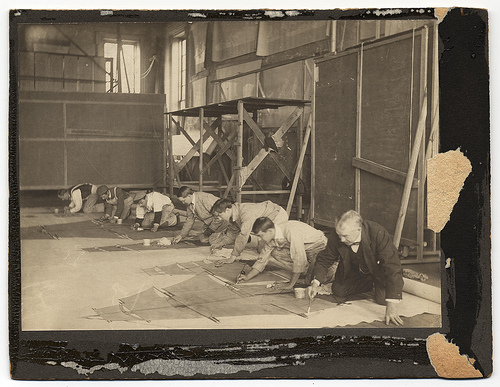 Sharing opportunities to engage with Smithsonian collections and distribute knowledge during the U.S. government shutdown which closed to the public all federal institutions including the Smithsonian Institution and its facilities
On Tuesday, with the shutdown of the U.S. government, many of the greatest FREE opportunities to experience science, art, culture, and technology have CLOSED indefinitely. An extremely simplified version of events: without federal funding, the Smithsonian Institution buildings must close, services end, and federal staff face furlough. It should be noted that many national parks and other locations that share cultural heritage stories are also closed to visitors.
The Smithsonian's current slogan is "seriously amazing" and it could not be more accurate as a description of the breadth and depth of events, research, and access to information. As with many large-scale institutions, there are controversies and gaps in representation – though work continues to address these issues while improving access to physical and digital Smithsonian Institution collections.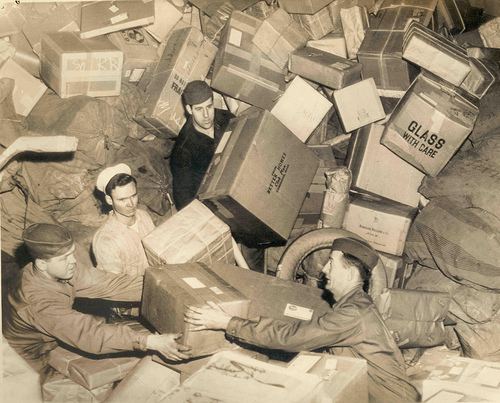 In my fieldwork, most apparent in each exchange with staff, volunteers, and researchers in different units: every unit is engaged in passionate pursuit of its goals and energetically seeking to engage with its audience(s). These folks are advocates for learning and clearly agree on:
the primacy of the distribution of knowledge
the need to craft better and more dynamic experiences in person and remotely through digital spaces
their desire to collaborate and share their enthusiasm for their work and
the need to make collections more widely available (find ways around restrictions)
With such passionate stewards, it seems such a misfortune for visitors to Washington, D.C. (and NYC and affiliate locations) that opportunities for learning and exploration are not available…
Or are they?? The doors may be locked and lights turned off, but all this knowledge cannot be contained by physical barriers!
BARRIERS OR NOT: GET BUSY!
In the interim of government shutdown, let's explore ways you can engage with Smithsonian Institution collections and materials, whether hosted by SI or other digital repositories.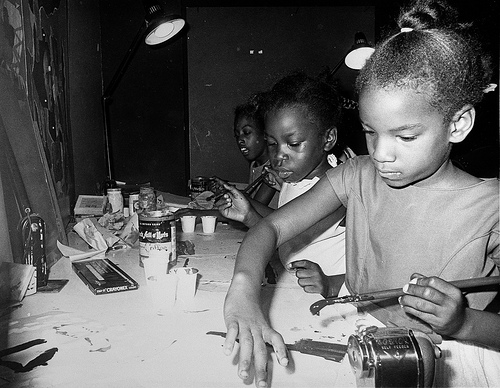 There are still plenty of opportunities to transcribe and review content at the Smithsonian Digital Volunteers Transcription Center – try your hand transcribing Carl Heinrich's fieldnotes on butterflies or tackle John Reed Swanton's detailed English-Alabama and Alabama-English vocabulary cards. You'll find plenty more to do at the Transcription Center, especially reviewing fellow participants' transcripts!
You can view truly astounding images on Flickr in albums and photostreams from the Smithsonian Astrophysical Observatory, Biodiversity Heritage Library (BHL), Encyclopedia of Life (EOL), and Smithsonian Institution Archives (SIA).
If you want to help develop Smithsonian Institution knowledge AND view detailed images at the same time, perhaps adding machine tags to images in the EOL and BHL Flickr albums is up your alley. Here are the instructions – you are welcome to add machine tags or even tag as you would typically do on Flickr.
You can also to participate in a data mining research sprint in early February 2014 as a part of pioneering efforts to mine Encyclopedia of Life and the Biodiversity Heritage Library – and learn more about the free access to biodiversity resources. Download the new mobile app, M-EOL, on iTunes or Google Play; earn points as you roll the dice and travel across continents, dynamically mapping relationships between different plant and animal species.
There are on-going opportunities to help build and share knowledge in Wikipedia through Smithsonian collections. Find to-do lists for several museums and archives like SIA and Archives of American Art (AAA) and get editing!
You can explore Freer-Sackler Asian art exhibitions through their website or explore selections hosted by the Google Cultural Institute. Find more details about collections on view and held by the Cooper-Hewitt, National Design Museum and the Hirshhorn Museum and Sculpture Garden – there are so many pieces to admire (and analyze) in these listings!
Want to learn more about what's happening in related spaces? Check out the weekly round-ups and Link Love posts at the blogs of different units, including Smithsonian Institution Archives Bigger Picture blog.
Education and outreach sites including the Smithsonian Latino Center and the apps and Google+ hangouts hosted by the Smithsonian Asian Pacific American Center have regional, national, and cultural foci on intersections and daily experiences.
If you've got a head for researching more, consider exploring archives and collections with finding aids at the Archives of American Art, Smithsonian Institution Archives, the National Anthropological Archives (an AMAZING series of collections!), Anacostia Community Museum, and the Archives Center at the National Museum of American History.
You can also see rich interrelated content from Smithsonian on Tumblr – this is a fantastic chance to develop those webs of knowledge through relationships of cultural heritage, scientific, and artistic content. Check out Smithsonian, Archives of American Art, Smithsonian Libraries, and the Smithsonian Latino Virtual Museum.
While the #shutdown is on-going, Smithsonian social media will not be populated with new information; now is the time to catch up on what you've missed!
Connect with Smithsonian Institution museums, archives, galleries and libraries here – from each unit's presence on Facebook, Pinterest, Twitter, YouTube, and Instagram, and more. Keep up-to-date with any announcements or changes to open status at the the main Smithsonian Facebook page and @smithsonian on Twitter.
That's merely a drop in the bucket of Smithsonian digital activities – there are so many opportunities to learn AND share the knowledge you've developed. If you have other suggestions for this list, such as a favorite app or Smithsonian online activity, please share your thoughts in the comments!
**Featured image for this post of Francis Davis Millet (1846-1912) at work in his studio, courtesy Archives of American Art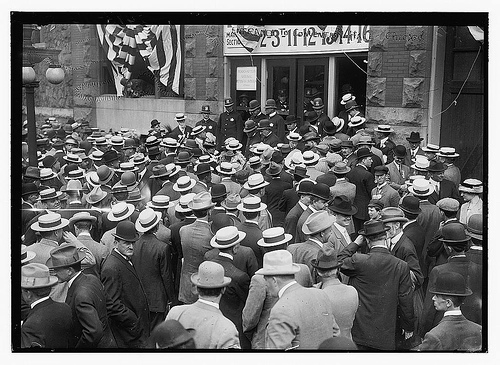 The following reflections summarize features of cultural heritage outreach and engagement events I have attended during my recent fieldwork at the Smithsonian Institution. I have selected three overlapping features that appear to have contributed to the success of these cultural heritage events; in an upcoming post, I will also offer several tips for improving upon these outreach strategies.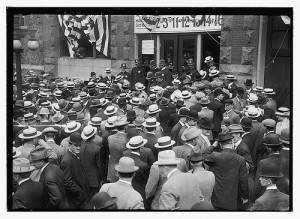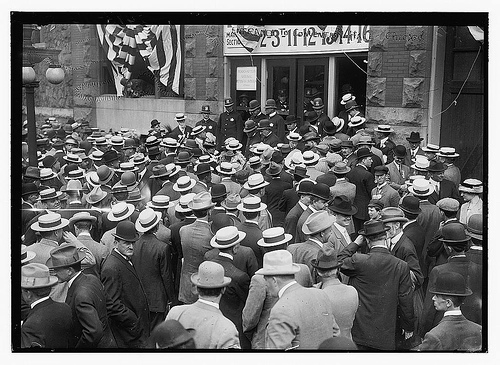 Crowdsourcing
[
Gathering or requestion information and action from the crowd, audience, or user
]
These engagement events have been predominately in line with a citizen-scientist model or crowdsourcing model. In other words, they have gathered participation on an avocational and/or volunteer basis. They have also operated in systematic ways to collect, refine, populate, and assign values – "doing things" with materials. The events have not necessarily been science-focused, though some have been. Most have required participants to BYOD and register for participation. Several of the events have also gathered experiential information and viewpoints from participants at the close of the event.
Participatory
[
Audiences or individuals "opting in" toward a goal, either personal or collective
]
These outreach events have been based around the idea of a shared experience of working toward a project goal – calling upon a sense of participatory culture or being creator-consumers. That means that participants have been taking actions ("doing") toward both individual projects and shared roles or group work toward parts of a goal, whilethe event has taken participants toward achieving a collective goal in the end.
Free but exclusive 
[
No charge but cost of time and some bounding on event
]
Each of these events were held by cultural heritage institutions and were free to attend; yet, the events were also managed in a way that was bounded in number, space, or access. Clarifying my use of "exclusive" to mean selective in this context, the events have typically accepted the first candidates for participation and allowed those individuals to feel as though they are gaining unique access in some way.
The three features discussed above appear to have subtly informed approaches and agenda; and resulted in events that appeared to be reasonably successful.* Enthusiastic and engaged participants were found at all events and activities taken toward each event's stated goals.
Despite the appearances of success for these events, each event offered several points at which engagement or efficiency could be improved. Watch this space for an upcoming post that speaks to four ways best practice at cultural heritage outreach events can be built.
*This assumption made without knowledge of each event's stated metrics for success.
**Image of crowds outside the entrance of the 1912 Republican National Convention held at the Chicago Coliseum, Chicago, Illinois, June 18-22, 1912 – shared from George Grantham Bain Collection (Library of Congress) – via Flickr Commons